THE TOP 3 "MARKET LIKE A NERD"BLUEPRINTS TO BOOST YOUR BUSINESS…
EVERYONE who downloads this giveaway will
receive these 3 blueprint training videos:
WORK SMARTER CONTENT CREATION: Discover My Massive Visibility System For Consistently Publishing Podcasts, Videos, Guest Blogs, Webinars, & High Quality Content!
AUTOMATE LIKE A NERD: Discover EXACTLY What Systems To Automate In Your Business To Make It Sustainable And Scalable!
CREATING A+ CLIENT RESULTS: Discover How My Clients Quickly Bank $2.5K-$25K (and even $100K) From Working With Me (And How You Can Accelerate Your Client's Results Too)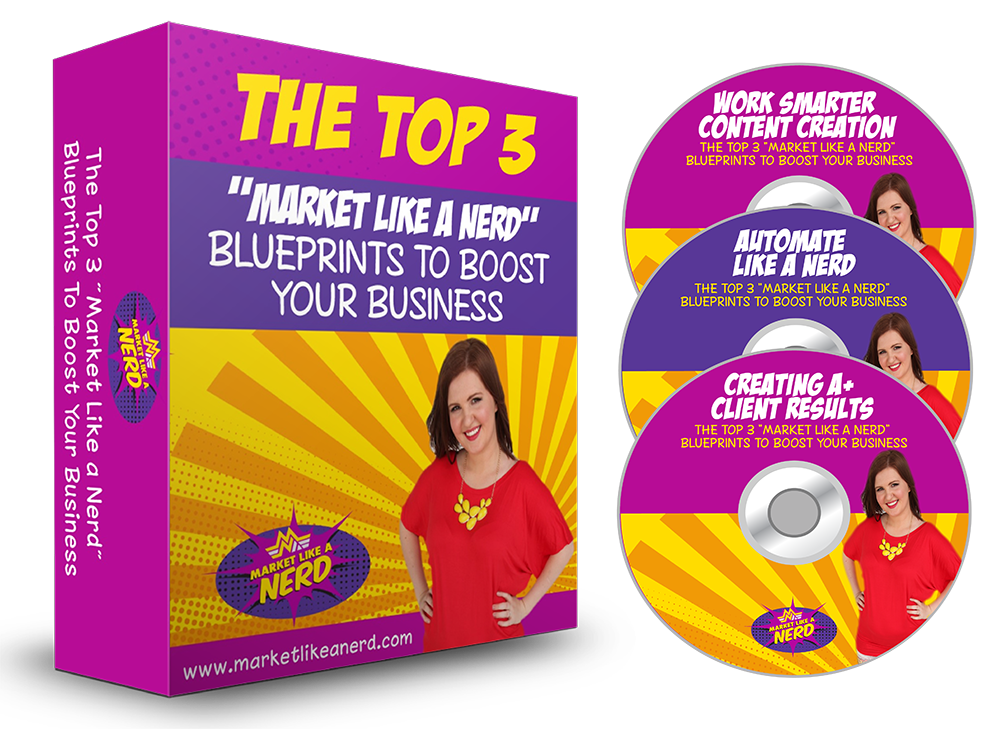 Enter your information below to
access the TOP 3 "MARKET LIKE A NERD"
BLUEPRINTS TO BUILD YOUR BUSINESS!
PLUS, everyone who downloads the giveaway is entered in a raffle to win a complimentary 1-on-1 "Work Smarter" Session with me personally (sells for $197 on our site).

We value your privacy and would never spam you
PLUS,you will be entered to win ONE of FIVE 30-minute "Work Smarter" Sessions ($197 on our main site), where I will personally help you nail down your short-term and long-term action steps to turn your business into a sustainable, scalable, automated marketing machine.
The "Make More Money Giveaway" runs from Monday, August 8 through Friday, August 26, 2016, ending at midnight EASTERN time. Contributors with raffles will draw winners and notify them by email on August 29, 2016. Raffle winners have 30 days to redeem their prize, unless otherwise notified by contributors. All "Make More Money Giveaway" contributors are independent business owners, and are operating with, but SEPARATELY from the "Make More Money Giveaway" promotion.